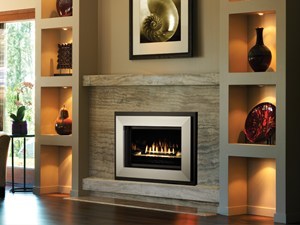 564 Diamond-Fyre GS2
SKU 00202
Product Details
This mid-sized gas fireplace features a contemporary ribbon burner and under lighting to illuminate a bed of crushed glass in three color options. Only 16 1/4 inches deep it's perfect for adding to master bedrooms and bonus rooms. At 20,500 BTU's maximum input the 564 Diamond-Fyre heats up to 950 square feet.
Big on beauty, small on space, this fireplace features a 31 1/2" w x 18 1/2" h viewing area.
You can choose from platinum, cobalt blue or bronze glass. Metal firebacks are required, and come in the choice of basic black paint or brushed stainless steel, which reflects the flame pattern to create the illusion of a much larger fire.
The basic GreenSmart™ system in the 564 Diamond-Fyre allows you to run your fireplace in either standing pilot mod or in the electronic ignition mode (IPI), where your pilot flame goes out when you turn off your fireplace saving you gas and money. This makes the 564 Diamond-Fyre one of the most "Green" fireplaces you can own.
The 564 Diamond-Fyre can be personalized for each room or home décor. Choose from something as simple as the basic grill to multiple face options in a choice of textured finishes. Finally complete your installation by adding a quiet convection blower that is ideal for circulating the fireplace warmth quickly and evenly throughout the home.
Practical, efficient and beautiful - The 564 Diamond-Fyre makes the ideal fireplace solution for those looking for a more contemporary fire.
---
Heating Capacity


Up to 950 Sq. Ft.

BTU Input High/Output Low (NG)


20,500-8,700 (58% Turndown)

Weight


155 lbs.

BTU Input High/Output Low (LP)


20,500-6,000 (70% Turndown)

Height


33-1/4"

Width


36-1/4"
Save this product for later