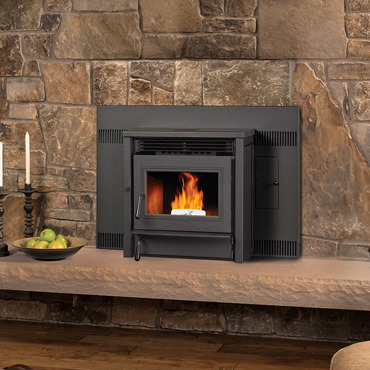 AGP
SKU 00252
Product Details
The AGP insert employs the same innovative technology as the AGP freestanding stove, but is ideal for converting an inefficient, open fireplace into a beautiful source of heat for your home. Performing at a minimum efficiency of 75% and emitting 0.9 grams of emissions per hour, the AGP insert is an environmentally sound and "green" way to heat your home. This low maintenance insert burns ALL GRADES of wood pellets that are made from all-natural wood by-products. An optional ZC kit is available for homeowners who want the "fireplace look" but don't have an existing fireplace. This new ZC kit features a wide interior design that makes for easy installation and service of the AGP pellet insert. It includes a non-combustible floor panel, top or rear venting options, and knock-outs on both sides for the Insert Wiring Kit.
---
New "All Grade Pellet" feed system is self cleaning and designed to burn multiple grades of wood pellets.

Unique horizontal rotary disk feed system (HRD) delivers all grades of pellets without jamming, overfeeding or burn backs

Revolutionary heat exchange system for maximum heat output

GreenSmart Thermostat setting modulates feed rate to maintain an even room temperature, 3 setting choices

Hopper size allows for more than 1 bag of pellet fuel, 40-70lbs

Low maintenance design for easy ash removal, utilizing ash pan

Three inch exhaust for low cost installation

Quick flue disconnect simplifies annual cleaning

Same Door SKU as freestanding stove (door & ash lip) * BTU Rate Based on 8,200 BTUs per pound.
---
Heating Capacity
800 to 2,000 Sq. Ft.

Heat Output (BTU's/hour)




On Low: 11,480 On Hi:41,000

Glass Size
321 Sq. In.
Steady State Efficiency


72%

Maximum Burn Time


On Low: 50 Hours On Hi:28 Hours



Save this product for later