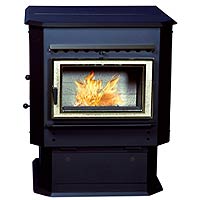 Countryside Multi-Fuel Corn Stove
SKU 00162
Product Details
Your ownership of a Countryside Multi-Fuel Corn Stove reads like a book, with romantic moonlit nights, snuggled up in front of a brightly lit fire, sipping warm beverages and peering out the window at the blustery cold night. Saving thousands of dollars in the process makes your story truly romantic.
The Countryside Multi-Fuel Corn Stove was invented with our customers in mind. From our multi-fuel stove's inception, American Energy Systems has lead the country through revolutionary change in the way we heat our homes. The end result is a multi-fuel stove that stunningly enhances your home décor and is versatile enough to burn shelled corn, wood pellets, cherry pits, waste paper pellets, and a host of other fuels.
Keeping it Simple
Countryside Multi-Fuel Corn Stoves install easily in new or existing homes, eliminating the need for expensive and complicated chimney systems. Our stoves feature easy to adjust heat and draft settings, thanks to Countryside's advanced electronic components. Our exclusive ash drop system, ash drawer, and self-cleaning firepot redefines simplicity. When you are ready to bring home your new Countryside Stove, our fully trained and certified Resellers and Installers are waiting to make your experience positive.
Harness America's Natural Fuel Source
Our future's most cost effective and abundant source of heat is being grown in America's heartland. Corn is readily available and waiting to be put to creative, efficient use. The ability of Countryside Multi-Fuel Corn Stoves to burn your choice of corn, pellets, and other alternative heat sources gives you the flexibility you need. An investment in a Countryside Multi-Fuel Corn Stove means 100% of your dollars stays in America, homeland of the Original Countryside stoves.
Invest in Your Future
Creatively designed to combine the latest technology with traditional good looks and incomparable features, Countryside Multi-Fuel Corn Stoves are your best choice to fit any budget or criteria. Countryside Multi-Fuel Corn Stoves serve as a beautiful insertion or replacement for virtually all masonry, factory built or zero clearance fireplaces. Our elegant selection of painted colors, coupled with 24 Karat Gold plated doors and trim, guarantees your new Countryside Multi-Fuel Corn Stove to be the focal point of your home, office, or cabin.
Save this product for later